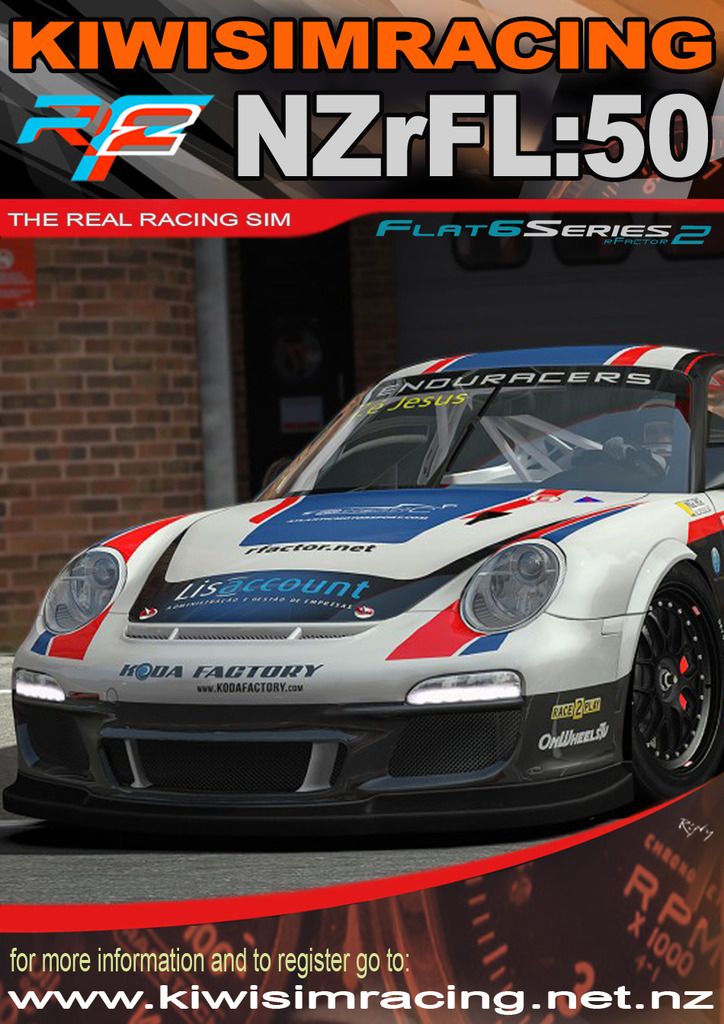 Welcome to NZrFL50! For this league we will be using the newly updated version of the Flat6 mod by EnduRacers. The first round kicks off on February 12th in the Motherland with Monza. After that we head stateside for 5 more rounds of racing.
The cars are extremely fun to drive and have somewhat limited setup options, which should make the racing evening among all participants
Riven has very kindly put a server up already, with the mod and Monza which is Round 1.
Schedule
29th Jan: Official Practice 1
5th Feb: Official Practice 2
12th Feb: Monza
19th Feb: Laguna Seca
25th Feb: Road America
5th March: Sonoma (NASCAR Layout)
12th March: Daytona Road Course
19th March: Portland (There's some information online that this track may not work well when hosted on a server, if testing proves this to be the case it will be replace by Cleveland)
Download Links
Mod
Monza
Laguna Seca
Road America
Sonoma
Daytona
Portland
Cleveland
For those unfamiliar with installing non-steam workshop tracks, instructions are below:
1: Download the file from above, and save it into your rFactor 2 Packages folder - this can be found by right clicking rFactor 2 in Steam, going to properties, local files, browse local files.
2: Launch rFactor 2.
3: On rFactor 2 Launcher screen, click on the box icon (second icon on the left).
4: Scroll down the list until you find the track name or filter by uninstalled.
5: Click on the track name, then click on install at the bottom.
6: Repeat Step 4 & 5 for each track.
7: Done!
Race Night Format
Timeline
8:00PM - Official Practice
8:30PM - Qualifying (15 Minutes)
8:45PM - Drivers briefing and Warmup (15 minutes)
9:00PM (Sharp) - Race 1 - 10 Minute Sprint
9:15pm - Race 2 - 15 Minute Sprint
9:40pm - Race 3 - 30 Minute Race with 1 Compulsory pit stop.
Qualifying
Qualifying will be a 15 minute open session to complete as many laps as you wanted. Please keep Discord chat to a minimum during this time. Also please strictly adhere to blue flags during this session and only use headlights if you are on a flying lap.
Race Grids
Race 1 grids will be determined by qualifying
Race 2 grids will be a full reverse grid of Race 1 results (unless requested by racers to come off the back)
Race 3 grids will be determined by the finishing order of Race 2
Race Settings
Flag Rules - Black Only
Damage - 20%
Fuel usage - 2X
Tire Usage - 1X
Mech Failures - Normal
Practice Time (Official) - 30mins
Qualifying Time - 15 mins
Race Length - As above
Type of Start - Standing
Driving Aids
Traction Control - 0
Anti Lock Brakes - 0
Auto Clutch - Yes
Driving View - Open
Additional Weight
We will also be utilising a weight system throughout the league based on finishing order of each race.
The amount that is added\taken off will dynamically adjust dependant on the size of the field.
For every place above the midpoint of the field 10kg will be added
For every place below the midpoint of the field 5kg will be taken away
Example:
Race 1
15 paticipants.
Midpoint is 7.5
1st = +70kg
2nd= +60kg
7th = +10kg
10th = -15kg
12th = -25kg
14th = -35kg
Race 2
18 paticipants
Midpoint is 9th
1st = +80kg
2nd = +70kg
9th = No change
11th = -10kg
17th = -40kg
Sign Ups
We will be utilizing the RF2 analyser tool that was used in the Australasian GT3 series last year. This does not require manual sing-ups by drivers.
Browse to this
link
Password: wahwahwah
Points to be awarded as follows: