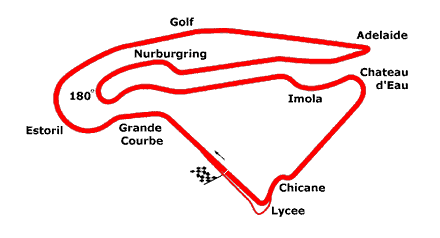 Please note, the version we're using is the modern version and different from above.
Round 3 of the KSR 1991 F1 Championship takes across to France and Circuit de Nevers Magny-Cours, otherwise known as just Magny Cours.
The track is in central France by the town of Magny Cours and Nevers and relatively close to Paris.
The track has not hosted an F1 Grand Prix since 2008, which also marked the start of a 10 year hiatus of the French Grand Prix until it was hosted by a a bunch of painted lines in a Carpark (aka Paul Ricard)
The track used to be extremely bumpy, however this is no longer the case and is reflected in the version of the track we're using.
Due to the short pit-lane, pit stops don't cost as much time, thus a multiple pit stop strategy can easily be accomplished. (as seen
here
)
Night schedule (4th June)
8:00pm - Official Practice
9:00pm - Qualifying (15 minute open session - do as many laps as you'd like)
9:15pm - Drivers briefing and warm up (practice your pit stops)
9:20pm - Race Start (35 Laps)
Download Link
. Like last week, you'll need all the content from the main thread to be able to join the server.
Points After Round 2
Compulsory Pit Stop
You must run both compounds of race tyre (you can't run the qualifying tyre) and you cannot pit on the last lap. As mentioned above, the pit lane here is quite short, and soft tyres do have a noticeable yield over hard tyres.
Additional Information
This is easier than Imola, however people may find it harder to pass so please play nicely.
The brake disks also wear out - it's advisable to run the smallest disks you can without them exploding (larger disks = more rotating weight). If the disks blow, you cannot repair them.
As mentioned in the main thread, Qualifying tyres are banned from the race (we see this from Live Timing and the Points Site), if you run qualy tyres you will be excluded from the race result.
Practice pit stops - the speeding penalties are extremely sensitive.