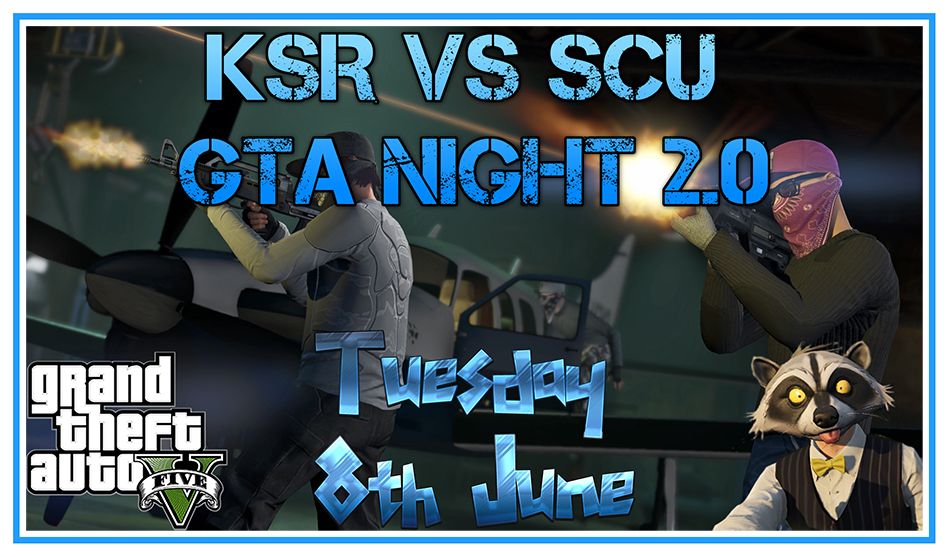 Date:

6/6/17 8pm
Date is subject to change.
After the success of the last one I feel we should challenge SCU (Simcentral Unit) to another GTA5 Challenge. I have changed and improved on what didn't work in the last challenge.
I expect we would have around 8 - 10 people per team but we can have up too 15. Some of us that belong to both forums and may be asked to team up with the other team to match the numbers. Some details and the order we do this in may change.
Everyone will need to be on by 7.45pm so we can sort teams. We will start a playlist and hopefully kick this off at 8.00pm.
We will need everyone from both teams on the same discord channel (details of channel to come) at the start of the night so we can get it underway. After that we can ether all stay on the same channel or each team can have there own channel.
On the night we will have 6 Races and 5 Deathmatches/Capture events.
Races:
The races will decided by the team has the best average from there top 5 drivers. The Classes of car will be decided on the night by both teams.
Race 1: Zancudo Motor Speedway
This will be a throw back to the guys who used to race at KSR during the NASCAR days. A good old oval race in Mussel cars.
Race 2: KSR VS SCU Rallycross
Combining the off road nature of rallying and the overtaking, battling action of circuit racing, rallycross brings a new dimension to the motorsport world
Race 3: KSR vs SCU Truck racing
This race will another throw back to the KSR NASCAR days. Oval race in the Dune Dakar truck around the horse race tracks. There will big crashes, Close racing and a few body panels bent out of shape
Race 4: Around the Docks
A Murphy created boat race through the Docks, Rivers and Canals of Los Santos. Recommend Jet skis as the weapon of choice as there are some narrow bits but its possible in the other boats.
Race 5: 4 Way Madness Reloaded
4 Way Madness is back. Fly through the Pillbox Hill intersection from all four directions whilst trying to avoid collisions. Use GTA mode for some extra carnage. Try not to end up in the middle, as you won't be able to get out. Also all ramps are now in use.
Race 6: Grapeseed Park
Grapeseed Park is a high speed racing circuit. Banked turns allow drivers to take more speed through some of the corners, but brakes are tested as well. The motorway is closed off in order to play host to a thrilling chicane.
Deathmatches and Capture:
These are all rockstar created jobs.
Job 1: Contend: Pier Shaped
Every native Los Santino remembers their first trip to the pier: the Ferris Wheel, the candy floss, the roller-blading acid casualties. But they might not remember two gangs butchering each other over three bags of crystal and some dirty postcards. Grab a bag, make the long run across the sand to your base, and hope this memory isn't about to become your last.
Job 2: Basic Training
You've spent all night stowed away in a box car eating rust and chewing your hands just to keep warm, so when the carriage stops and Los Santos embraces you with a merciless gun battle it seems like you've come home. You'll need to adapt to your new surroundings and start to think vertically if you're going to stand a chance in this brutal new world. This is going to be the start of a beautiful relationship.
Job 3:Richman Mansion LTS
It's a Los Santos rite of passage to spend an afternoon at Richman Mansion gazing at fake breasts and unloading your semi, but now you're ready to graduate from sex to violence with this compact LTS at every voyeur's favorite picnic spot. You've only got one life, don't waste it prematurely.
Job 4: Raid: Thoroughfares
LS gangs used to have the decency to keep their killing to low income areas, but they don't anymore. Outfits from opposite sides of the LS River are making raids into each other's territory and taking product, so it's time to tell cable news to go into panic mode. Numbers are key, and defence is as important as attack. Use your environment, or be buried underneath it.
Job 5: Bottleneck
The LS canal system boasts more dead yuppy per square inch than any other water network in the country. Make some well-chosen additions to that statistic with this Deathmatch for up to 30 players that sprawls right across the glorious effluence of Vespucci.
Practice and the Playlist
Both teams will organize a practice night ideally by themselves so both teams can come up with tactics. If anyone wants to practice or just check out what the events will be you can get the playlist from the following link.
https://socialclub.rockstargames.com/ga ... 2ZGwqvS6vg
If you want to practice then you will need to go to the link above, Find the yellow add game and hit that to bookmark it.
Then start up GTA online.
Once the game has loaded, Go to the menu
Go to the online tab.
Find the Playlist.
Then find My bookmarked Playlist and it should be there.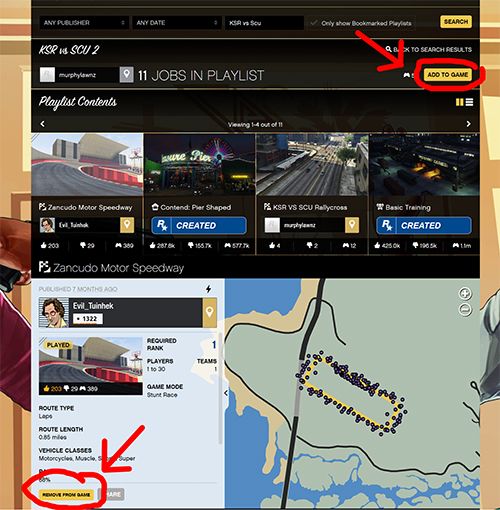 .
If there is any questions or if i have missed anything please let me know and I will get back to you as soon as possible.