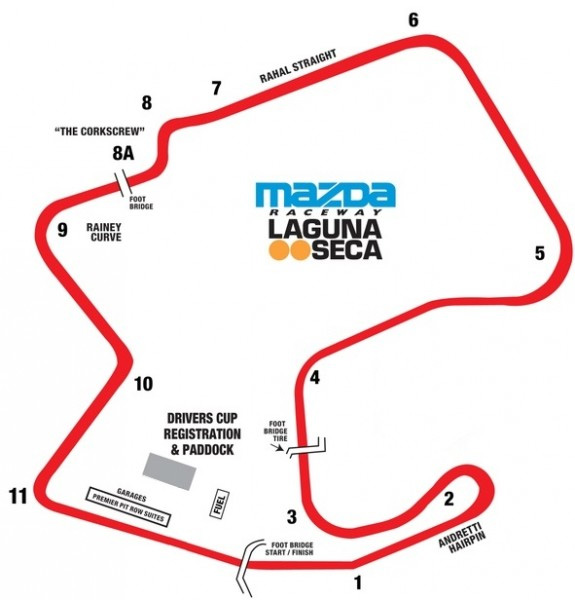 We have moved across the Atlantic to beautiful California for round 2 of the Flat6 tour at Laguna Seca. The track should provide a technical challenge with it's mix of medium and slow corners with a car that can be difficult to turn into the apex.
The last round provided a mix bag, with mostly clean driving throughout and great battles up and down the field.
The points heading into round 2 are below:
The weights for round 2 are below (these will be applied for qualifying onward - i will also be available on Monday and Tuesday before the race to apply some weight):
Schedule (19th Feb):
8:00pm - Official Practice
8:30pm - Qualifying (15 Minute open session - do as many laps as you'd like)
9:00pm (Sharp) - Racing Commences
Format:
Race 1 = 10 Minute Sprint - Grids will be determined by qualifying
Race 2 = 15 Minute Sprint - Grids will be a full reverse grid of Race 1 results (unless requested by racers to come off the back)
Race 3 = 30 minute race with 1 compulsory pit stop (you must take 4 tires) - Grids will be determined by the finishing order of Race 2
Special Notes for Laguna Seca
The corner cutting and pit lane speed limit is harsher here than Monza, please be aware.
Be extremely careful attempting a dive bomb pass at the corkscrew. These things can compression lock easily (ask Bull about my T1 Monza cornering technique) so please don't take out the chap next to you when you're bang shifting down to 1st.
There is no blend line at pit exit, but when coming back onto the actual track itself, do not dive to the far right immediately to either block or avoid traffic.
As always, I'm available for questions either by asking on this thread or via PM. We'll also have approx. 10 - 15 minutes between the end of qualifying and the start of Race 1